Stromness facts

Stromness was still a very small village of just 13 houses when in 1670 it was chosen by the
Hudson's Bay Company as the first and last port of call for their ships en route to and from Canada. These trade links and the use of Orcadians as hard workers in the harsh wilderness of Hudson's Bay, led to a boom in Stromness.
In 1799, Orcadians made up 416 of the 530 on the Company's overseas payroll. By 1800, Stromness had grown to a settlement of 222 houses, of which 130 had slate roofs, a sure sign of wealth.
Later in the 19th century, Canada grew more self sufficient and conditions in Orkney improved, and ships stopped calling in at Stromness. However, one shop still supplied Hudson's Bay until 1913.
About Stromness

Stromness map

Images Gallery

FAQs

Availability calendar
About Stromness in Orkney
Stromness and it's picturesque harbour have greeted many Orcadians and visitors on their arrival from the Scottish Mainland for years. The second largest town in the Orkney Islands, Stromness is a quiet and distinctive town with small shops selling special things and a meandering narrow main street.
The town of Stromness is squeezed between the sea and the hill (Brinkies Brae) and thus, the houses have been built on what space there is. Houses jut gable end out onto the waterfront and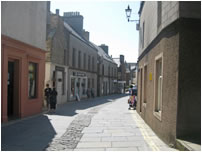 many have their own piers. Others climb the hill in a random fashion and follow labyrinthine closes. The main street is extremely narrow in places, and is made of flagstone. The overall effect is extremely picturesque.
Stromness, like the rest of Orkney, is steeped in history. It was a stopping off point for the Hudson Bay Company vessels before setting off across the Atlantic to Canada. From the company's early days, their ships regularly called into Stromness for supplies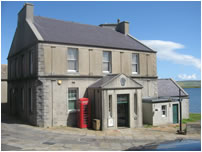 and to hire labour - an important source of employment for the islanders was the "Nor-Wast" and from around 1702 the company recruited in Stromness.
Stromness's harbour has been fished out of for centuries. Although this industry has declined, many of the old fishing boats are used now to transport divers to the wrecks of Scapa Flow and the harbour is still busy. A museum, dedicated to Stromness's rich history at the south end of the town is well worth a visit, as is the library and the local golf course, which has stunning views and a large salt-water hazard near by!
Franklin's view is an ideal location to base your holiday from. Nestled amongst the neighbouring houses, it's panoramic windows have a great view of Stromness's roofs and seafront. Daily papers,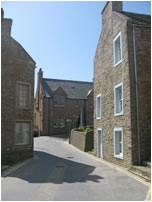 freshly baked bread and beautiful Orkney meat and cheese are a short walk down a close away. If you choose to go sightseeing, Stromness is the ideal place to start - as the gateway to the West Mainland - sites like Skara Brae, the Standing Stones and Maeshowe are all roughly seven miles away.
In the evening, there's plenty to do - restaurants, bars and evening entertainment are all a five minute walk away. If you fancy doing some island-hopping, the ferry to Hoy can be easily caught at the waterfront.
To find out more about everything there is to see and do in Stromness, please visit our Stromness Map page.