Orkney facts
Orkney and Shetland saw a significant influx of Norwegian settlers between 800AD and 1000AD. This was due to the overpopulation of Norway in comparison to the resources and arable land available there at the time. History once held that the Norwegians largely replaced the original population on the islands, the Picts. However contemporary DNA studies refute this, suggesting instead a slight majority of aboriginal Pictish genes.
More Orkney facts

During World War I and II, Orkney was the site of a Royal Navy base at Scapa Flow. After the Armistice in 1918, the German High Seas Fleet was transferred in its entirety to Scapa Flow while a decision was to be made on its future; however, the German sailors opened their sea-cocks and scuttled all the ships. Most ships were salvaged, but the remaining wrecks are now a favoured haunt of recreational divers.
One month into World War II, the Royal Navy battleship HMS Royal Oak was sunk by a German U-boat in Scapa Flow. As a result, barriers were built to close most of the access channels; these had the additional
advantage of creating causeways whereby travellers can go from island to island by road instead of being obliged to rely on boats. The causeways were constructed by Italian prisoners of war, who also constructed the beautiful Italian Chapel.
Your Orkney Holiday
Orkney consists of approximately 70 islands, 19 of which are inhabited. The landscape of Orkney is green and rolling, treeless - with large skies and stunning sunsets.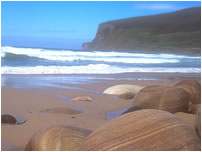 The Mainland of Orkney is filled with treasures - amazing stone built villages and monuments that have stayed for thousands of years. Sometimes not having much wood to build with is a good thing! Franklin's View in Stromness is an excellent base from which to explore Orkney, and Stromness is a beautiful distinctive town well worth enjoying your evenings in.
Orkney is famous for delicious produce - orkney milk, meat, cheese, ice cream, beer, bread and fudge are all highly recommended. Pubs and restaurants and evening entertainment is all close to hand. Come stay in Orkney with us and discover it's magic for yourself!
Things to see and do:
Skara Brae - a neolithic village by the sea - uncovered by a sand-storm in the 19th century. Houses remain intact, offering the visitor an amazing glimpse into the past.


Maeshowe - a neolithic tomb, which was sealed from the inside, Maeshowe also contains a Viking history. During a storm, Vikings took shelter within this small grassy dome, and carved the most impressive collection of runes in Western Europe. These can be deciphered by a guide - phone ahead to book a tour.


The Old Man of Hoy - a stunning 137m tall sea stack in the island of Hoy - the Old Man, viewed from the cliffs is an awe-inspiring sight. The stack is made up of red sandstone perched on a plinth of Igneous Basalt rock, and is frequently climbed during the summer by brave climbers!


Ring of Brodgar - a large neolithic circle of standing stones, the Ring of Brodgar remains, to this day, an enigma. A walk around the Ring of Brodgar is especially recommended during Orkney's long summer evenings, when the light never seems to go.


St Magnus Cathedral - an impressive red sandstone Cathedral in Orkney's biggest town, Kirkwall. St Magnus Cathedral was built in memory of the Viking Saint Magnus, and is a popular place to get married during the summer.


Italian Chapel - a tiny chapel representing a testament to faith - the Italian Chapel was built out of Nissan huts by Italian Prisoners of War, whilst building the Churchill Barriers in WW2. Scrap metal and concrete were used to make the alter - and the interior is so beautiful it will take your breath away.


Wildlife Watching - Orkney's moors are full of birdlife, and it's shores alive with sealife and seals. Even windswept cliffs are home to rare flowers. Much of the island of Hoy is an RSPB reserve and is a guaranteed place to see puffins and seabirds - many of whom may swoop at you for trespassing on their land!.


Diving Trip - evening in Stromness is an exciting time - when divers, alive with stories of their day exploring beneath the waves, return to shore. The waters around Orkney may not be the clearest, and may not offer the most exotic species of fish - however, they do, like the land, contain a wealth of history. German battleships and other sunken vessels can all be explored by divers.


Visit a North or South isle - or even better stay in one! Visiting an island, like Hoy, lets you sample the many flavours of Orkney. Every island is distinctive and contains archaeology, birdlife and plantlife unlike anywhere else! Ferries are frequent, and some islands can also be reached by aeroplane.


Rackwick beach - we could talk for days about how beautiful Rackwick beach is. Hemmed in to the fierce Atlantic swell by two tall hills on either side, the bay has distinctive and massive sea-smoothed pebbles and a wide strip of sand. That so few other people will be there only makes it better!