Orkney facts
The name Orkney is a corruption of the islands' Old Norse name - Orkneyjar.
Pronounced "orc-nee-yahr", the name is generally taken to mean Seal Islands.

The Orkney Islands have been inhabited for at least 5,500 years. Originally inhabited by Neolithic tribes and then by the Picts during the Iron Age, Orkney was invaded and finally annexed by Norway in 875AD and settled by the Norse. It was subsequently annexed to the Scottish Crown in 1472, following the failed payment of a dowry for James III's bride, Margaret of Denmark.
Orkney contains some of the oldest and best-preserved Neolithic sites in Europe.
Previous Guest comments

Orkney has woven its magic spell once again. The weather has been superb. We have visited all of the well loved and familiar haunts along cliff tops and amongst ancient stones and mounds. We have sampled the delights of many a cafe and watched seals playing in the water down at the point. The tides and the ferries came and went, and we could sit here and watch the ever changing sea. Yes, we have enjoyed staying here immensely. MORE
Orkney Accommodation
Dear Guest
Thank you for taking the time to look into a holiday in Orkney. I will try to give you a taste of what's on offer but as so often said by visitors "we came for a week but could have stayed a year and still not have seen it all".
Sue Manson
Orkney's claim to be Scotland's 'secret jewel' is well founded, of all the Scottish Islands; it has the widest range of attractions to offer the visitor.

There are marvelous walks along the dramatic cliff tops, and also quiet and excellent sandy beaches for lazy days in the sun. Loch fishing in Orkney is free and boat hire is available.
The islands have been steeped in history since prehistoric times. If you choose to holiday in Franklin's View in Stromness you'll be renting traditional, stone built dwellings, which have been carefully restored and tastefully decorated by the owners to create cosy and comfortable holiday accommodation.
Franklin's View
Franklin's View has a charming and cosy atmosphere befitting of a holiday cottage.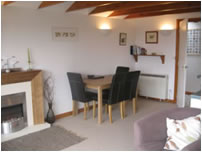 The open plan living and dinning area has a bright and airy feel which is encouraged by the large panoramic windows, looking over the rooftops to the Harbour and Scapa Flow. Franklin's View sleeps four between two bedrooms.
Free wi-fi is available at Franklin's View
It boasts its own private and secluded garden with drying green and garden furniture (ideal for a BBQ or relaxing).
Local shops, restaurants and bars are only a short walk away, along the picturesque cobbled streets.
There is a museum and a library within five minutes walk.
To find out more visit our Franklin's View Orkney Accommodation page
Booking
Booking of either property is for a Saturday to Saturday basis during the high season. We can accommodate alternative booking arrangements, but please contact us to arrange this.